Copy Company
Available for $795 + $200 per year, TaiRox Copy Company will copy an existing company's structure without copying transactional data, flawlessly performing many hours of manual manipulation with one push of a button. Copy general ledger accounts, customers, vendors, inventory items, employees, recurring entries and financial and operational setup options.
Download All The Essentials: PDF Handout (key info and video links in one file)
Watch:
3:42 Copy Company
*New* Support is added for Sage 300 2022.
*New* Support is added for installation on the Sage Partner Portal.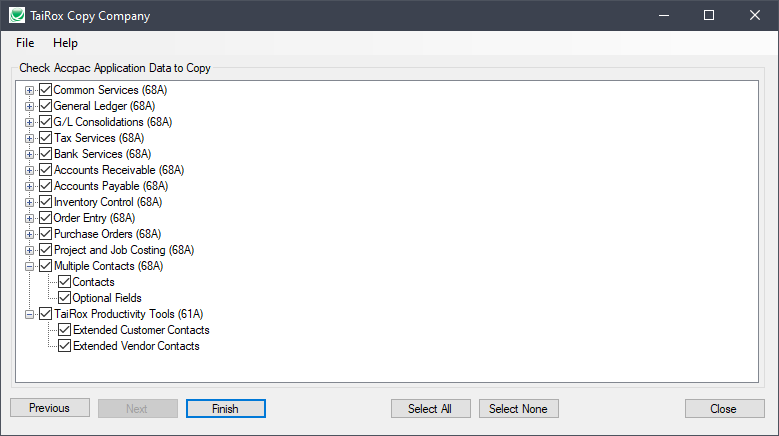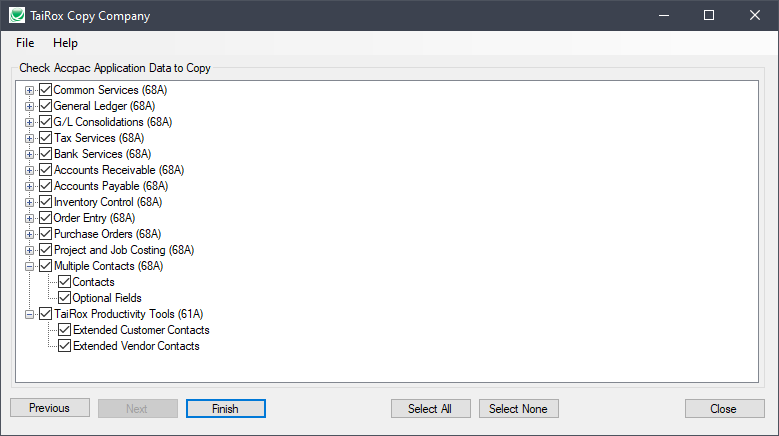 Features and Benefits
| | |
| --- | --- |
| • | Uses any existing Sage 300 company as a template to create new companies with a few clicks. Avoid dozens of export and import operations. |
| • | Copies setup options that cannot be exported or imported. |
| • | Handles General Ledger account allocations using a multi-pass approach. |
| • | Handles Payroll deductions of deductions using a multi-pass approach. |
| • | Supports the copying of G/L Integration settings to a live database. |
| • | Provides a recipe in the user guide for changing a company's functional currency. |
| • | Uses Sage 300 business objects to ensure that valid database tables are created. |
Platform Requirements
| | |
| --- | --- |
| • | Sage 300 2012 to 2022: A single executable program works with these platforms. |
| • | Note that on some older versions of Sage 300, Copy Company requires 2 Lanpaks, as it accesses 2 companies during its operation. |