Fast Clear History
Available for $995 + $250 per year, TaiRox Fast Clear History is a SQL Server specific utility that performs Sage 300 clear history operations in a fraction of the time taken using the Sage 300 user-interface forms. Fast Clear History will clear all Sage 300 core modules.
Watch:
2:50 Fast Clear History
*New* Support has been added for Sage 300 2022.
*New* Now clears the AP Payment & AR Receipt Tax Withholdings tables when posted and deleted batches are cleared.
"Fast ... cleared 49 million records in about 75 minutes ... before this ... not even an option! Thanks TaiRox!!" Kelly Hummel, Net@Work. Show complete quote.
"Database is 187 GB ... standard OE clear ... [2 or 3 days] ... TaiRox OE clear ... [less than 2 hours]" Scott Davies, Equation Technologies. Show complete quote.
Tests on a 5Gb database show Fast Clear History deleting 98 thousand OE records and taking 29 seconds versus 1 hour, 37 minutes, 8 seconds:

197x faster

!
Tests on a 20Gb database show Fast Clear History deleting 8 million OE records and taking 12 minutes and 26 seconds versus 7 hours, 12 minutes, 38 seconds:

35x faster

!
The Fast Clear History Console shows a tab for each supported & activated module in the selected company.

Important Note

: Before running Fast Clear History you must ensure that IC Day End has been run.
Accounts Payable Options: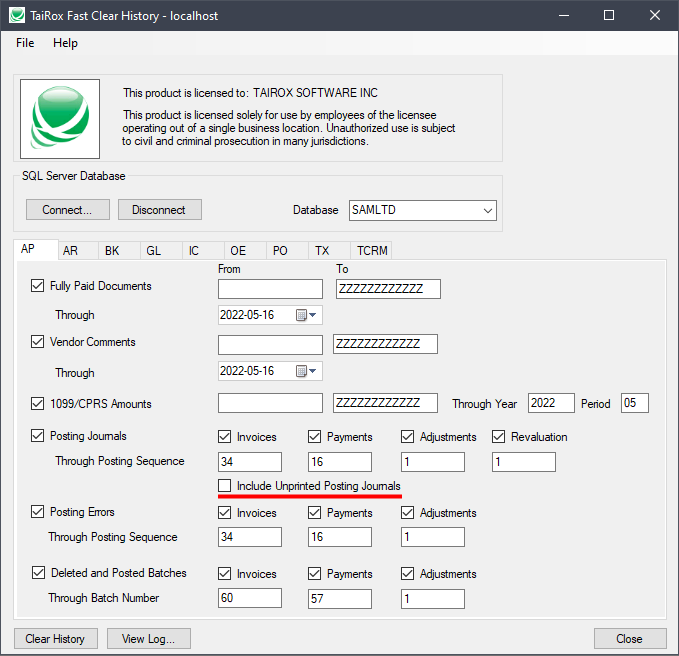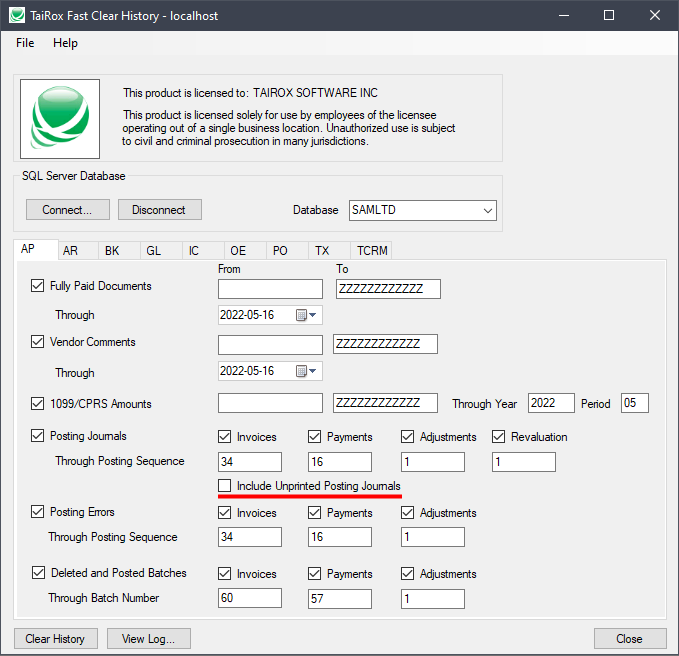 Accounts Receivable Options: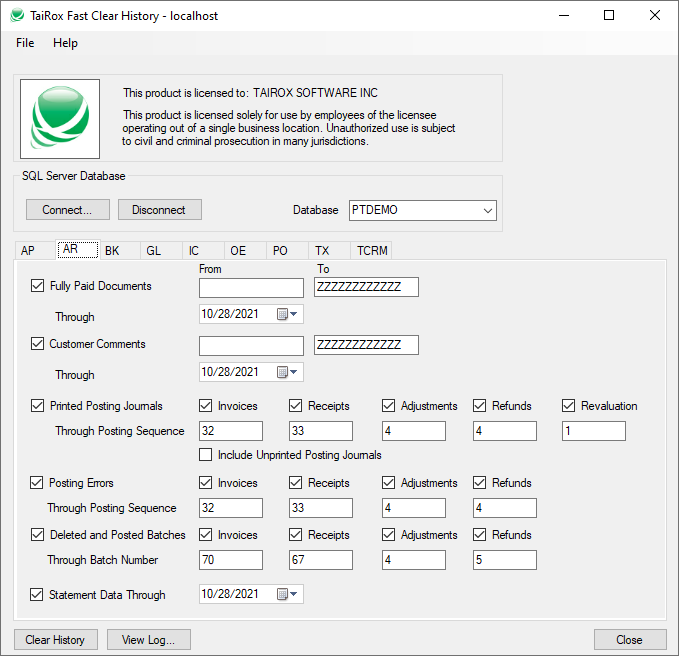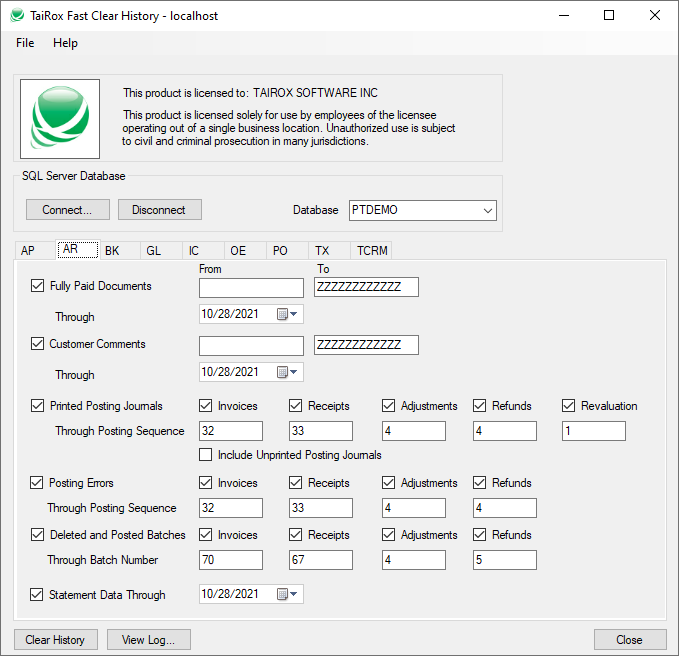 Bank Options: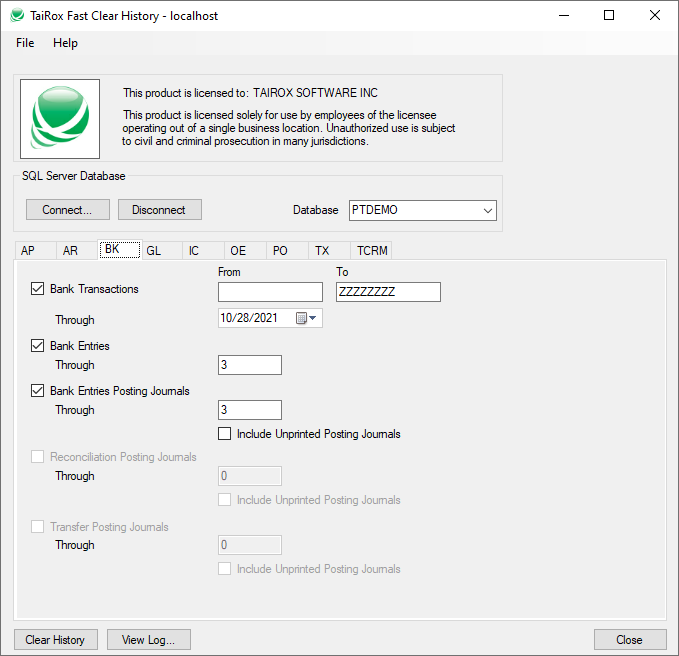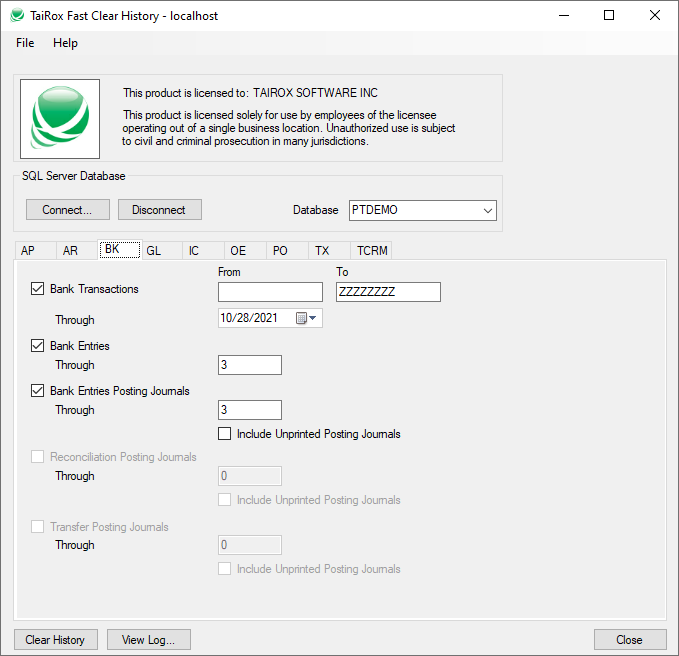 General Ledger Options: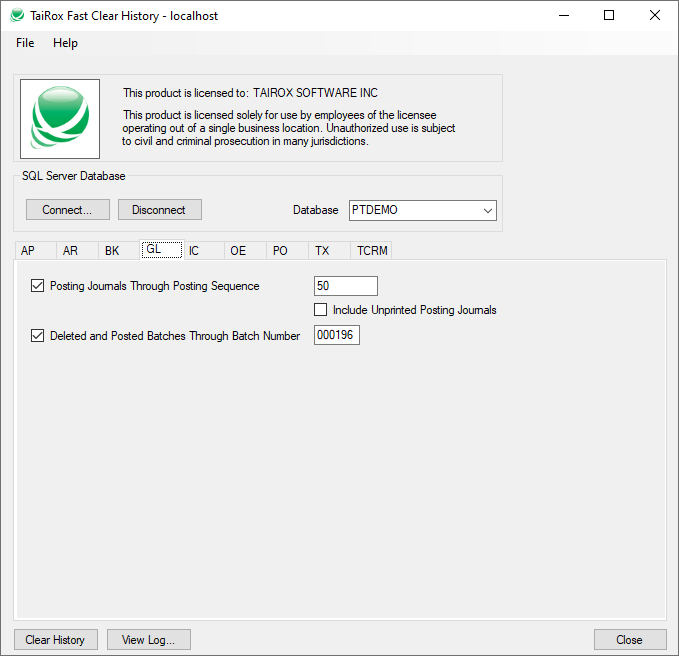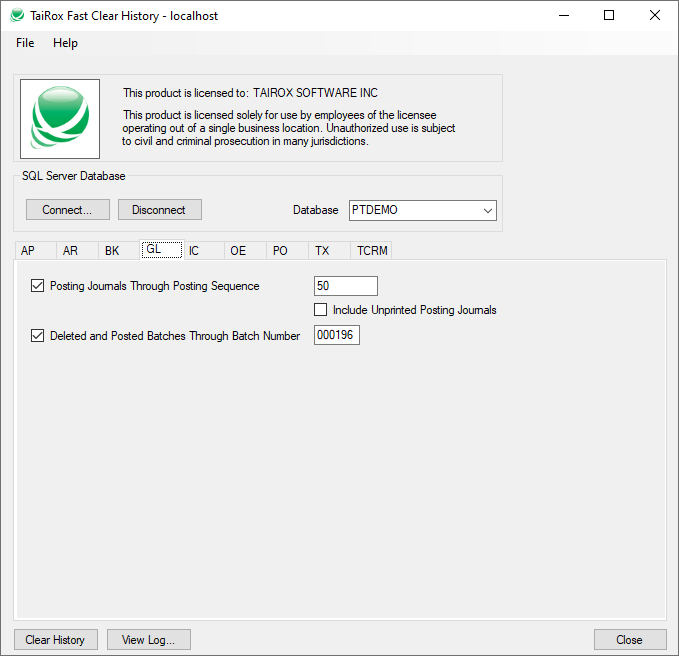 Inventory Control Options: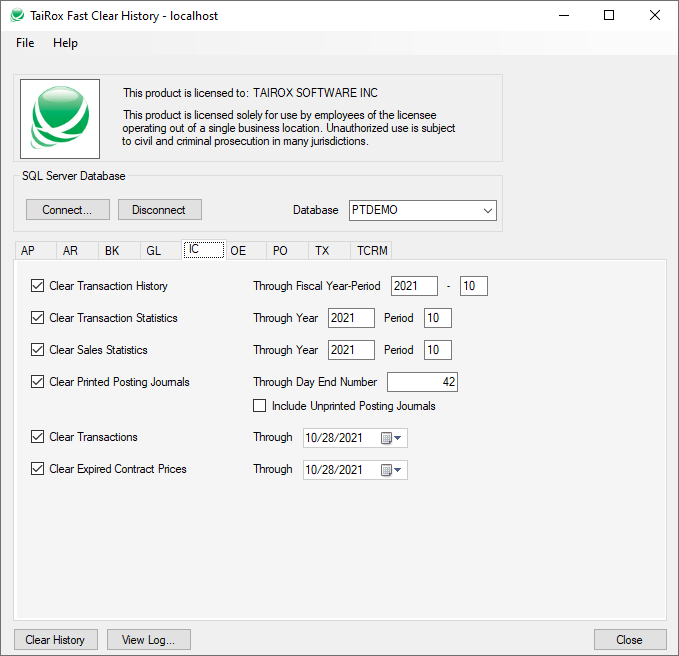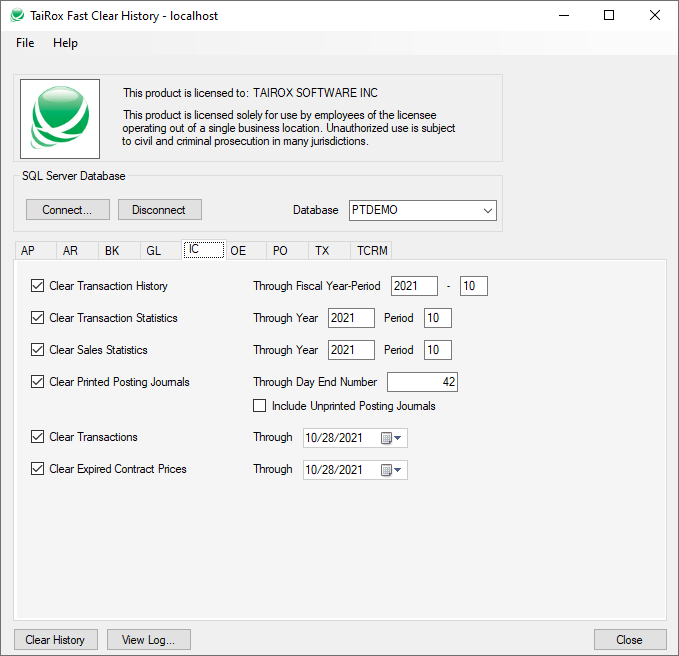 Order Entry Options: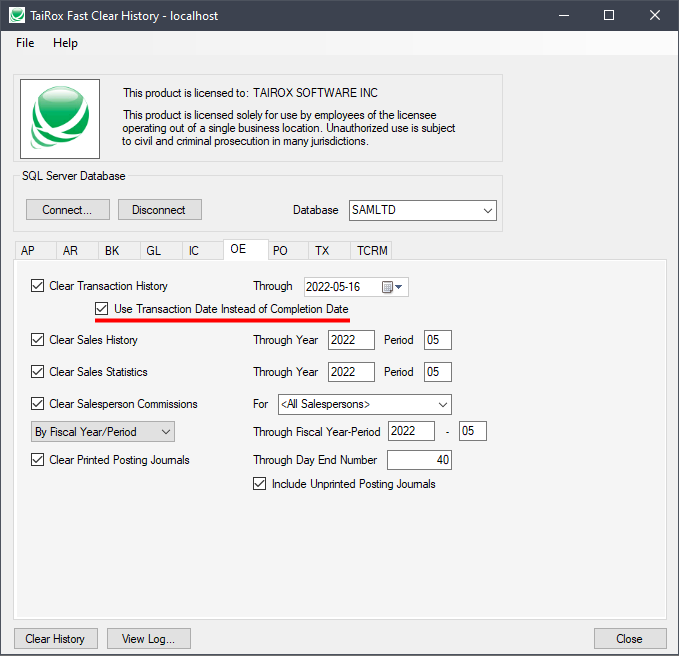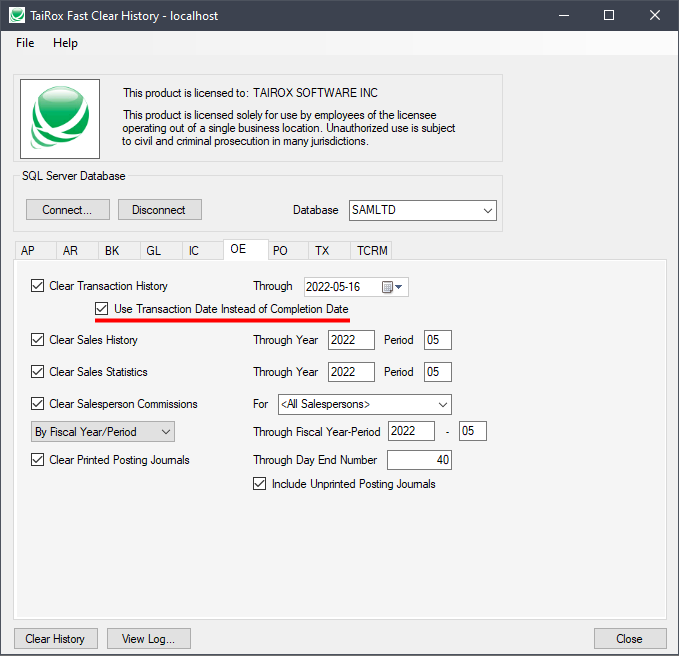 Purchase Order Options: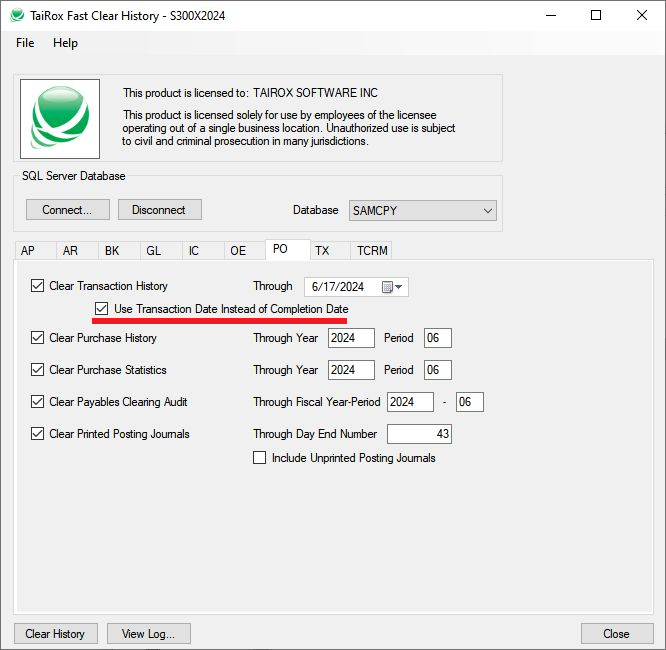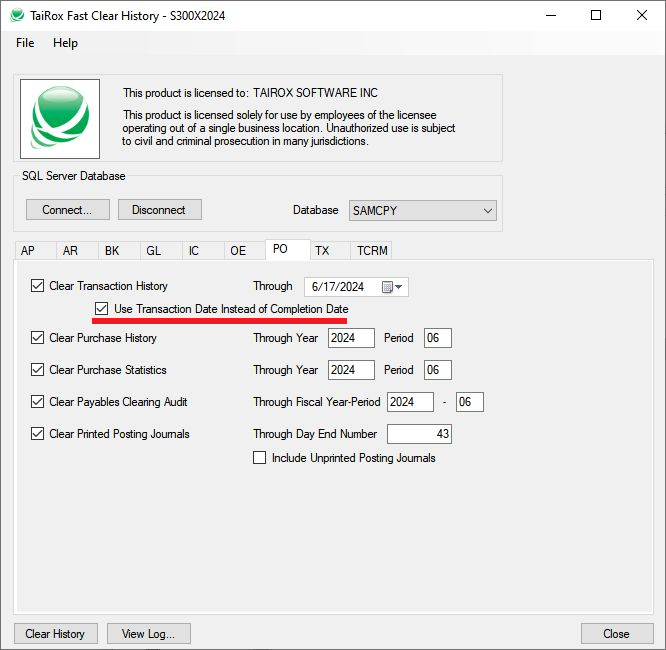 Tax Options: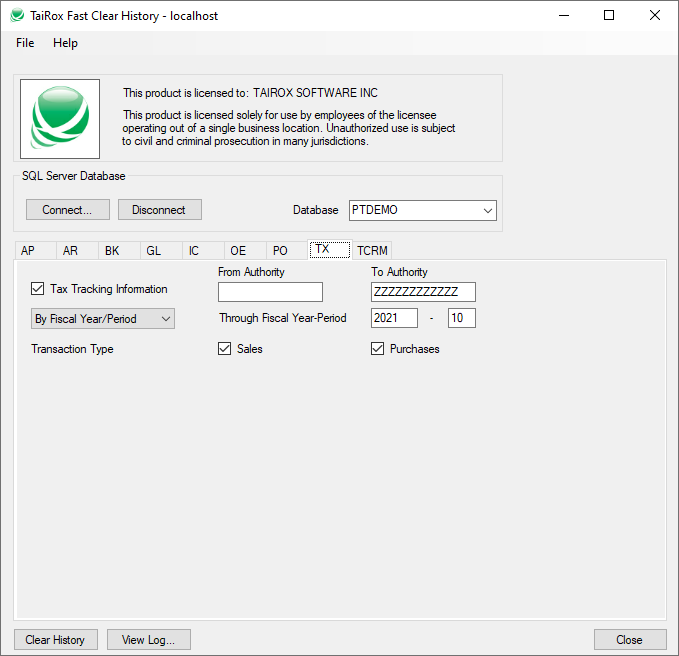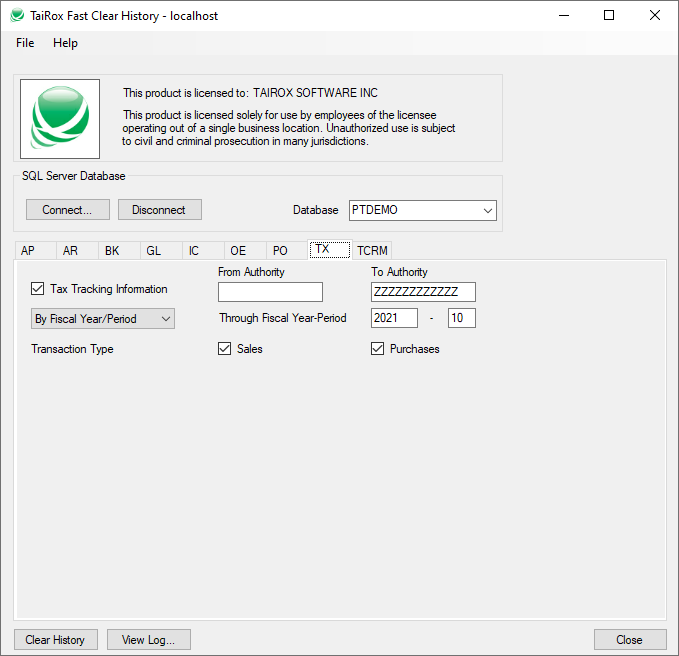 A Summary Message will be displayed upon completion with the total number of rows that have been deleted. A progress window will appear during operation. A log file can be viewed for more details.


Features and Benefits
•
Performs a clear history operation many times faster than Sage 300.
•
Includes options, like clearing unprinted posting journals, which are not available in Sage 300.
•
Makes the same table changes as Sage 300 clear history.
•
Deletes multiple rows in a table as a single SQL transaction.
•
Detects triggers in affected tables and warns before proceeding.
•
Supports Modules: AP, AR, BK, GL, IC, OE, PO, TX.
Platform Requirements
•
Sage 300 2012 to 2022: A single executable program works with these platforms.
•
Microsoft SQL Server is required