Fast DBTools
Available for $795 + $200 per year, Fast DBTools launches programs from an interactive console that are faster and safer than the standard utilities, as well as unique, time-saving tools not otherwise available. Databases are displayed in a sortable, Sage 300-centric grid with Collation, Recovery Model and Log Space Available columns.
Download All The Essentials: PDF Handout (key info and video links in one file)
Read: Reindexing Sage 300 Tables and boost Sage 300 performance.
Watch:
4:07 Fast DBTools
*New* A Fast DBLoad operation is now 5x faster (was 3x faster) - and uses much less disk space. This is accomplished be turning off transaction logging during a DBLoad. Wrapping each table in a transaction has no benefit as a successful DBLoad operation must load a complete database.
"As if you need further testimonials ... Load complete in 1:20 ... a 40 GB database, had taken 4.5 hours" Scott A. Schreiner, Axis Integrated Solutions. Show complete quote.
"the little touches ... are so valuable ... a database dump ... nicely warns the user when there are SQL views in the database" Mark Binkley, DataQuest, Inc. Show complete quote.
Do It Faster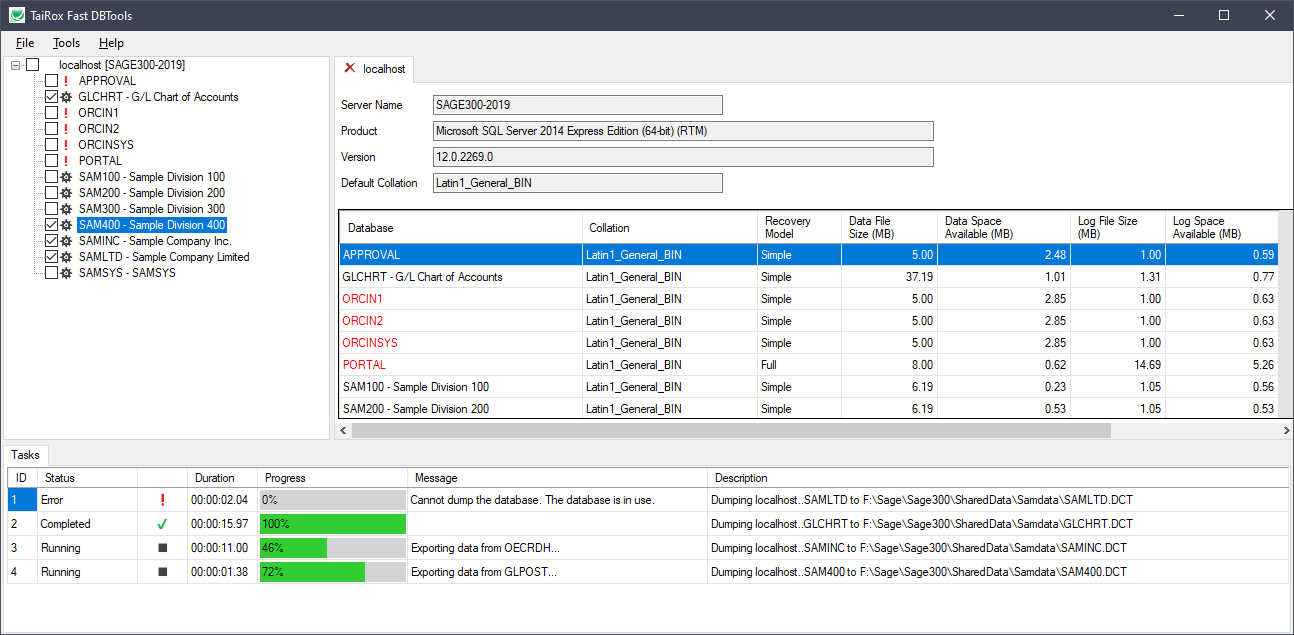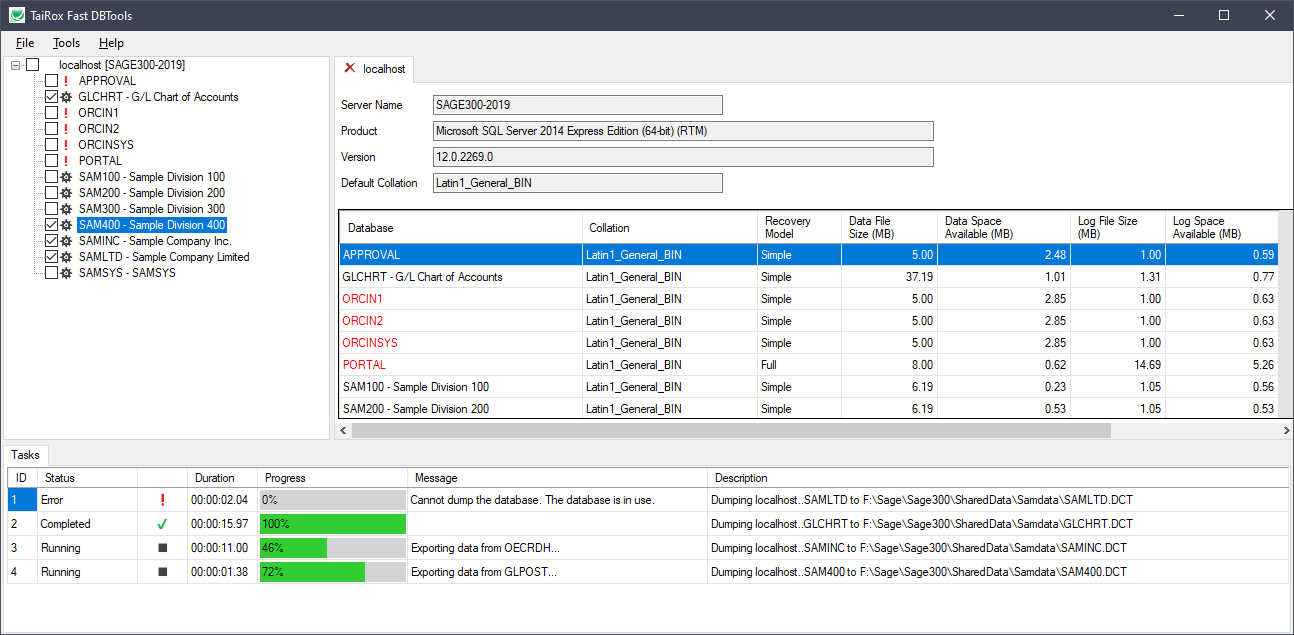 | | |
| --- | --- |
| • | DBLoad 5-6 times faster than with the standard utility. Fast DBTools uses SQL Server's BULK INSERT statement to achieve this performance gain. |
| • | DBDump dozens of databases in one multi-threaded step. Select the databases and walk away. No need for repetitive login and logout operations. |
| • | Copy databases from one SQL instance to another. Save 40% of the time by combining Fast DBDump and DBLoad operations. |
| • | Reindex large tables without locking out users. Improve Sage 300 performance for medium and large databases. |
Do It Safer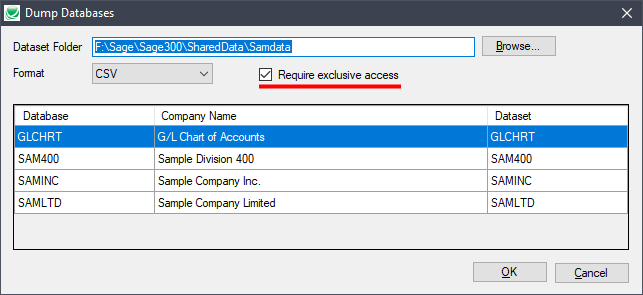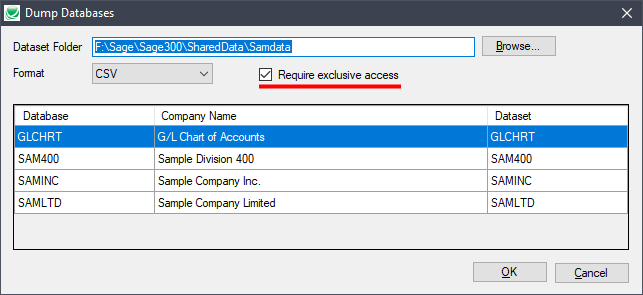 | | |
| --- | --- |
| • | DBDump with exclusive access to a database. A dumped database may not be consistent if users are able to enter data during the dump. |
| • | Record the collation sequence with a DBDump dataset. If a user tries to load a dataset into a database that has a different collation, a warning will be presented. |
| • | Be warned if there are non-Sage 300 table changes. Stored procedures, views, triggers, extra tables and extra columns are not saved in a DBDump dataset. |
Perform Unique Operations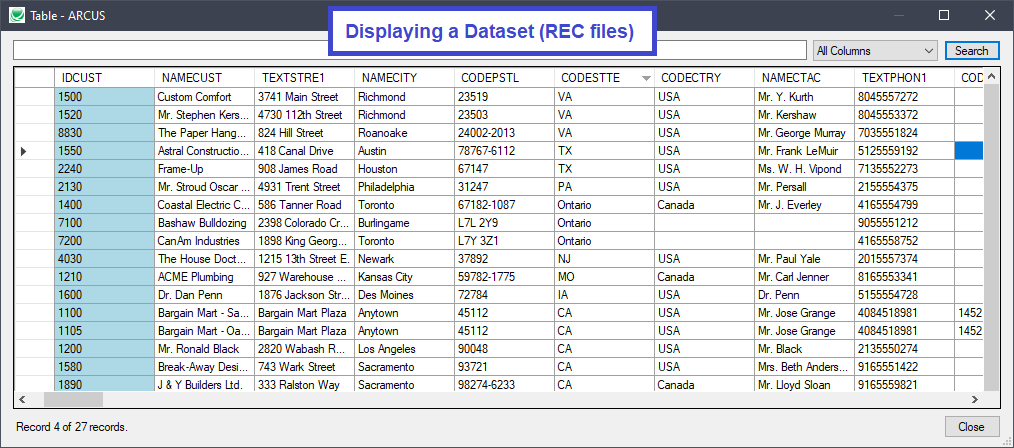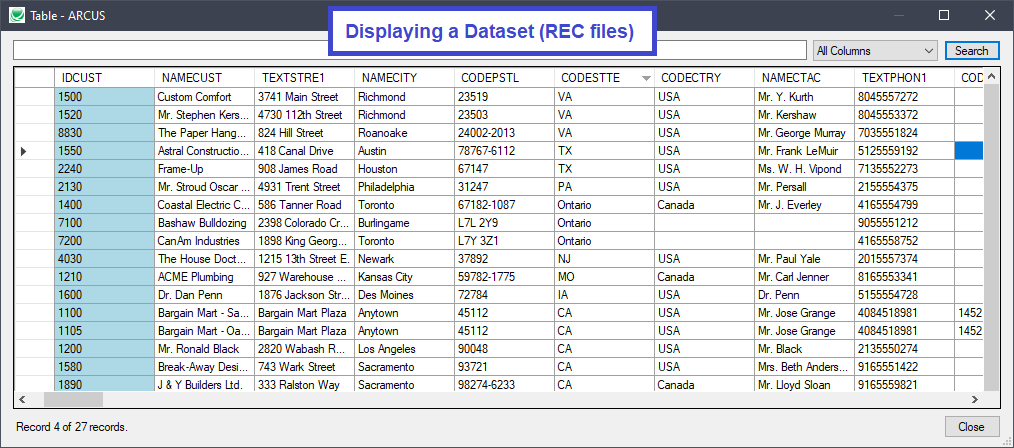 | | |
| --- | --- |
| • | DBDump files in either a REC or CSV format. CSV files can be edited and reloaded using Fast DBTools' DBLoad utility. |
| • | Deactivate modules, clearing all the relevant tables. Modules are referenced in more tables than Sage's CSAPP table. |
| • | Display REC files without loading them into a database. Find what's in a dataset without loading it. |
| • | Create or Delete a Sage 300 database in one step. Avoid complex SQL Server and Database Setup utilities. Creation uses an existing Sage 300 database as a model. |
Platform Requirements
| | |
| --- | --- |
| • | Sage 300 2012 to 2022: A single executable program works with these platforms. |
| • | .NET Framework 4.7.2 or higher is required. |
| • | Detailed Platform Requirements |